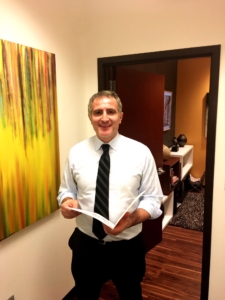 Testimonials

Call 703-687-3601
I have known him for more than 15 years and observed his professional performance in many situations. He is dedicated to his patients, providing superb clinical care and surgical proficiency. In addition, he is a consummate urologic colleague, displaying the highest standards of service and professionalism. Arthur L. Burnett. Patrick C Walsh professor of urology. Johns Hopkins University, Baltimore, Maryland.
---
The Best! CH Arlington VA (google independent review)
---
My experience with Dr Taj was from heaven above. His robotic surgical skills are amazing. I truly believe if Dr.Taj didn't do my surgery I probably wouldn't be here today. Again thank you Dr. Taj and the good Lord above. CJ Maryland. Google independent review
---
I am a prostate cancer surviver. Dr. Taj performed surgery. He is highly professional & popular in Maryland. His surgery has saved my life. I am thankful to his care & compassion. I am cancer free more than 5 years & fully back to normal. John K, Frederick, MD
---
I have been a patient of Dr. Tajkarimi for 7 years. He discovered I had cancer in one of my kidneys. He removed the kidney robotically. My kidney was removed and I went home the next day. Much to my surprise, he called me the next day (weekend day) on his personal cell phone to check on me. How amazing and kind is that?? I continue seeing Dr. T every 3 mths, as I have bladder cancer and he performs a cystoscopy to check for any changes. Not only is this man an extraordinary doctor, but he is also an extraordinary human being. I believe that god has gifted this man to save lives. I will never be able to repay him for all he has done for me & for saving my life. Linda S, Chambersburg, PA
---
>Dr. Taj always responds quickly to our needs & knows our family history. He makes sure we are doing all we can for my care. Dora E. Chambersburg, PA
---
My visit with Dr. Tajkarim was proffessional but treated me as his family. He took the time to explain my ultra sound results and gave me advice how to improve my symptom I was having. I now have no problems. Jessica Z. Frederick, MD
---
Dr. Taj is an amazing person and a phenomenal surgeon. After our 2 children, my wife started dreaming of a 3rd, to our surprise we conceived twins. After about 6 months in with 4 kids, the only thing on my mind was a vasectomy. I hate surgical intervention and the thought of a vasectomy caused me quite a bit of anxiety. My partner at work highly recommended Dr. Tajkarimi- he did an excellent job on his father's prostate surgery. I was sold after 10 mins of consulting with him. I had a six minute vasectomy . I feel amazing, he is hands down the best urologist all men deserve to have on their side! Kevin T. Hagerstown, MD
---
We came to see Dr. Tajkarimi because our one-year old son needed to have a recircumcision performed. There were also significant skin adhesions that needed to be released. As first time parents, we were very worried about the surgery. Dr. Tajkarimi put us at ease. He did an excellent job with the surgery and we couldn't be happier. He is a fantastic pediatric urologist. S. H. Frederick, MD
---
Dr. Taj is hands down the most competent, compassionate urologist I have ever known. I have prostate cancer. PSA zero since 2010. and fully back to normal. He is the urologist of my wife, my son, my daughter, my grandson, and everyone in my small town. He is caring, and extremely versatile. He is very confident. His personality exudes positive energy. I highly recommend Dr. Taj. I will follow him wherever he goes. John W. Fayeteville, PA.
---
Dr. Taj has been my urologist since 2008. What can I say. He has saved my life. Not only he cured me of renal pelvic cancer, which my oncologists in Pennsylvania told me is "end-stage", I am free of disease. All I can say if that Dr. Taj is the only doctor I trust with my life. I have followed him to Frederick. I will follow him to the moon if I have to. He gives his heart out to his patients. I cannot say enough about his compassion for me as an individual. He truly cares. Everyone in my church in Chambersburg loves him too. He touches everyone's heart. I pray for him every day. Cassie, C. Chamberburg, PA
---
I am a urological colleague who has known Dr. Kambiz Tajkarimi for several years, having collaborated on numerous pelvic floor pursuits, an area of common interest. Aside from being an excellent clinical urologist, he has spearheaded numerous ongoing research projects and has a genuine interest in pelvic floor issues, prostate cancer, spinal cord injury, neuro-urology, sexual dysfunction and urological innovations. He has vast expertise on the clinical application of health care products designed to improve the quality of life for both female and male urinary and sexual dysfunction. He has straddled both academic and clinical urology, is an avid participant in clinical trials and the writing and presentation of papers at scientific meetings. He is a high-energy, industrious, virtually tireless individual who brings the same passion to patient care as he does to urological innovation.
---
Andrew Siegel MD Assistant Clinical Professor of Urology, Rutgers-NJ Medical School
He is very pleasant, knowledgeable, and caring. He spent 25 minutes with me and listened carefully to all my concerns, and spent so much time giving me information about my urological issue. I highly recommend him."
---
(Healthgrades independent review)
He made me feel very comfortable in discussing very private and personal aspects of my urological condition. He discussed all alternatives to further help me make an intelligent medical decision. I highly recommend this astute, caring, and knowledgeable urologist!"
---
(Healthgrades independent review)
Dr. Tajkarimi performed a radical nephrectomy laperoscopically. He was very attentive and caring. He called to check on me three times through the night and came to see me in person three time through the day. He listens to your concerns and I felt valued as a human being. He was even patient enough to show my children my kidney on my CT scan at a preoperation visit. Such a wonderful Doctor!
---
(ratemd.com independent review)
Really seems to know what he is doing. Explains everything to you and makes sure you understand what he is recommending. I like his personality and it seems like a lot of people prefer him to other drs. so he must be really good at making patients feel at ease and very comfortable with him when explaining what their problem is and how to treat it."
---
(ratemd.com independent review)
Dr. Taj removed my prostate cancer with a robot 5 months ago. I am completly dry, with my sex life improved 80% so far, and getting better, and I am tumor free. I know at least 8 other men who had robotic surgery with him and they are extremely satisfied. He is very busy, and you may need to wait 20 minutest to see him. But he will spend a lot of time with you and explains everything. He is so caring. Highly recommended.
---
(ratemd.com independent review)
the most caring and respected surgeon in Franklin county, PA
---
(Vitals.com independent review)
The perfect choice for a urologist
---
(Vitals.com independent review)
This is the best medical experience I've had in a long time. Dr. Tajkarimi is an exceptionally experienced and knowledgeable physician. Dr Taj did the appropriate tests and helped me to make an informed decision about my care. Dr. Taj is a skilled surgeon in that my recovery time and experience from the recommended surgery has been much faster and easier than average. Problem solved! I will continue use Dr. Taj as my urologist for the foreseeable future.
---
(Healthgrades independent review)
We are lucky to have such a skilled and experienced surgeon in our area. Dr Taj is straight forward and very thorough – I wish more doctors were like him.
---
(Healthgrades independent review)
Best urologist I have ever had!
---
(vitals.com independent review)
The only human Doctor I know
---
Charles T. Frederick, MD (Healthgrades independent review)
Dr. Tajkarimi performed robotic surgery to repair my bladder prolapse several weeks ago. I am extremely pleased with the results. Before I had trouble walking due to pressure and pain. Now, I can enjoy outdoor activities with my friends. Thank you Dr. Taj for changing my life.
---
Mary C. Frederick, MD