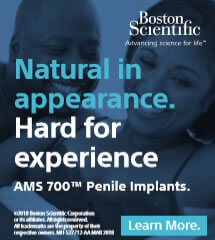 What is Erectile Dysfunction?
ED is when a man fails to achieve or maintain a consistent erection suitable for penetrative sexual intercourse.  ED can lead to loss of confidence, depression, and anxiety.
What are the causes of Erectile Dysfunction?
Many conditions that affect nerves, blood flow, and pelvic floor strength can lead to ED.  These conditions include diabetes, hypertension, heart and vascular disease, neurological conditions, pelvic surgery or radiation, back surgery, smoking, excess alcohol use, drug use.  The quality of your erection is a gauge of your overall health.
When is the best time in my life to get a penile implant?
Non-erect penis is always in a state of low oxygenation and blood flow.  Normally men have several night time erection episodes which delivers nutrients and oxygen to the erectile tissues of penis.  Men with progressive and severe ED typically lose 1/2 inch of their penis size per year due to atrophy and tissue fibrosis.  Vacuum erection devices and oral PDE-5 inhibitors (viagra, cialis, etc) help reduce the rate of length loss for a period of time.  Men with severe ED should consider penile implant sooner than later if they wish to restore their spontaneous and on-demand sexual ability.   For this reason, penile implants are not really the treatment of last resort.  How can the most successful treatment for ED be the treatment of last resort?
If you wish to have spontaneous, predictable and strong erections, then it is important that you and your partner learn about penile implants impact your confidence in the bedroom and beyond.  
What types of penile implants are available?
There are two types of penile implants approved by the US FDA, 3-piece inflatable penile prosthesis or malleable penile prosthesis.   Most men receive the inflatable penile prosthesis.  Both types of implants do not affect your orgasm, sensation, or ejaculation if you have them before surgery.  The entire device is concealed and after a few weeks, you will not likely notice anything different about your body.
How effective are penile implants?
Penile Implant patients and their partners have the highest satisfaction from their ED treatment.  The reason is simple:  You will not have erectile dysfunction anymore after penile implant.  You can have sex at anytime in less than 15-20 seconds, likely faster than natural erection.  You can have sex as long as you want and as many times as you wish.  There are no limits.
Each penile implant device comes with a lifetime warranty.
Do penile implants increase penis size?
Penile implants are not intended to increase penis size.  We can only place the size that your penis allows us to place.  Penis cannot become larger with penile implants.  However, the loss of length and size of penis due to ED and Peyronie's disease can be stopped after penile implant placement. If you only want to receive an implant to increase the size of your penis, please do not get an implant.  You may consider penile traction options for several months to regain the loss of length and then consider penile implant.
Will Penile implants make my penis shorter?
Penile implants do not make your penis shorter. In fact, they keep the penis from becoming shorter overtime due to atrophy and loss of smooth muscle.  Men who complain of penis shortening, are comparing themselves to the pre-ED years, which is before they began to lose length.
What are the benefits of minimally invasive penile implant?
We offer Dr. Perito's infrapubic technique and penoscrotal technique perfected by experts, such as Dr. Andrew Kramer.   This is combined with Dr. Tajkarimi's years of surgical experience with prosthetic surgery and unique penile rehabilitation to allow you to obtain the best results.  Very minimal manipulation of tissue is performed, therefore recovery can be faster.
Are penile implants discreet?
Yes, they are concealed within the penis and scrotum.  When the device is deactivated, your penis will be in complete flaccid state, just like normal.  When you decide to have an erection, you can activate the hydraulic system to obtain erection.
The scars will not be visible after several weeks.  You can walk around in the shower naked and no one will notice you have an implant.  The only giveaway is your confidence to have sex anytime you wish, and that you can have incredible firmness and ability to have intercourse, more than any younger 20 years old with no ED can imagine.  
Are penile implants covered by insurance?
Generally, most insurance will cover penile implant surgery including medicare.   However, for some men which coverage is not available, penile implant is an investment and a gift to yourself.  Remember, the longer you wait for an implant, the penis will shrink 1-2 cm per year if you have severe ED with no nighttime erections to bring oxygen and nutrients to your penis.  If you have a 6 inch penis right now, and cannot have any erection, your penis size will likely be 4.5 inches in 3 years.